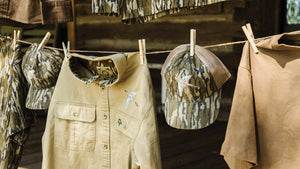 The Wright Collection
From the wild turkey painting hanging above Mr. Fox's fireplace to one of Bill Dance's first bass mounts, every critter in the Wright Collection has a story behind it.
In the early days of Mossy Oak, one of our favorite shirts was the classic wildlife embroidered button down. Ducks, deer, turkeys, elk, bass, we loved them all. With the revival of Companions, we decided to make this classic style a mainstay once again.