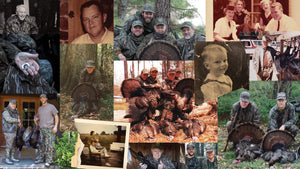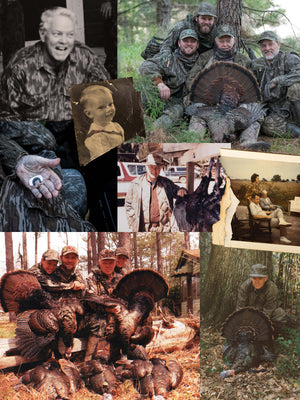 75 Seasons in the Making

The Mr. Fox Vest
All Mr. Fox Turkey Vests have found a home
To everyone who has followed along as we launched the Mr. Fox Turkey Vest - THANK YOU.
This has been the most meaningful project in Mossy Oak's history. Since the project's inception, we aimed to create a legacy product that honors and respects everything Mr. Fox stands for in the turkey hunting and conservation community. Our goal to create a tangible item that would represent the intangible: Mr. Fox's passion for turkey conservation, hunting, and the general well-being of future generations of hunters and gamekeepers.
Although we knew plenty of friends of Mossy Oak would appreciate this vest, we had no idea this project would spark people to travel from all around the nation, camp out in the cold for multiple nights, stand in lines for hours on end and more impressively, lead to the creation of meaningful new relationships among likeminded friends that will last a lifetime.
The outpouring of support for this project has been a true testament to the impact Mr. Fox has had on so many.
On behalf of Mr. Fox, the Haas Family, and everyone at Mossy Oak - thank you for showing so much love at every turn. There will never be another Mr. Fox Vest — so to everyone who went out of their way to make sure they were able to own a piece of Mossy Oak and turkey hunting history, we're truly thankful.
Extended Edition Pre-Order
Shipping Details
Extended Edition Mr. Fox Turkey Vests will be shipped prior to the 2024 Spring turkey season.
We will provide future Extended Edition Mr. Fox Turkey Vest updates here and via email to those who have pre-ordered these vests.
The Fox Vest Story
Mr. Fox's obsession for chasing and conserving wild turkeys began early on in his life. The first turkey Mr. Fox called up and killed was in the heart of an Alabama River swamp on a spring day in 1944. Ever since that day, Mr. Fox has been obsessed with wild turkeys. He grew to learn and understand the struggles that they would inevitably face, and that it would be up to us as gamekeepers to ensure the survival of the wild turkey population in America.
Mr. Fox once said "The good that men do will live long after they are gone" and he epitomizes those words every day of his life. The Fox Vest is more than just a turkey vest, its meaning is much deeper. This vest symbolizes what it truly means to be a gamekeeper. It is a symbol of giving back to the resource more than we take. It is a symbol of hope, that by following the example that Mr. Fox and people like him have set, wild turkeys will thrive for generations to come.
So, when you're out in the woods wearing your Fox Vest, remember what it stands for. When you're breaking daylight to the sound of gobbles ringing through a bottomland swamp, feeling the sound of an old gobbler drumming just out of range or squeezing the trigger of your granddad's shotgun with shaky hands and short breath, wear your Fox Vest with pride and remember that what you are wearing is more than just a vest, it's a way of life.
NUMBERED VESTS
When the Bob Dixon vest was made, it was limited to 1,986 vests for the year Mossy Oak was founded. So for Mr. Fox, we wanted to give him a year of his own. These vests are numbered 1 - 1,944 for the year he killed his first turkey. The rest is history, and here we are 75 seasons later. (For those counting you may notice a couple of years missing. Mr. Fox spent a few years around college with tuberculosis and unable to hunt.) Because of our experience with the Dixon Vest — which became one of the most coveted turkey vests ever made due to the quality, unique style, limited supply and Bob Dixon's legacy it represents — we've made a few unnumbered vests to ensure a few more folks who want one can get one. The unnumbered vests are made with the same exacting quality and materials as the numbered vests, but each numbered vest has a box of hand loaded APEX Ammunition available for purchase to match the number of your vest. More details on that below.
400 vests (#'s 201-600) will go on sale for the first time at the 2023 NWTF National Convention in Nashville, TN as a way to show our appreciation to the largest gathering of turkey hunters and gamekeepers in the US. Some numbered vests will be reserved for future fundraising opportunities to benefit causes close to our hearts, like Gamekeepers Grants and other conservation projects. All vests are priced at $450. For each numbered vest, there is a box of hand loaded APEX Ammunition numbered to match your vest that is reserved and available for purchase directly from APEX. More details below.
The Fox Vest Journey
Last spring we sent the Mr. Fox Turkey Vest Prototype on a journey that we referred to as the "Traveling Fox Vest." The vest was passed by hand from hunter to hunter throughout turkey season starting on opening day in Mississippi and ending on a late May trip to New England. The hunters that accompanied this vest throughout its journey consisted of Mossy Oak employees, close friends of Mossy Oak and members of the Haas family. The stories of the Traveling Fox Vest were documented through a journal that stayed with the vest throughout its journey, needless to say, it brought back some interesting stories as well as a blood-stained seat cushion. The vest ended its journey with Mr. Fox's 3 grandsons killing turkeys in New England using his Winchester model 12 shotgun that he used to shoot his first turkey in 1944.
The vest we made for the late Bob Dixon has endured for 15+ turkey seasons, and we know that both of these are more than just a turkey vest. They are made to stay in the woods, hang at the camp for decades and be passed down. To carry on the legacy of Mr. Fox, Bob Dixon and the rest of the their generation of turkey hunters. And we hope we've made a vest worthy of that.The Traveling Fox Vest will always be known as the very first Mr. Fox Turkey Vest. This spring, we hope a Mr. Fox Vest will become a part of your own hunting journey as you create new memories with family and friends in the spring woods for years to come.
FOX VEST CONSTRUCTION
The Mr. Fox Turkey Vest is a limited run of the best turkey vest ever engineered in honor of the man himself, Mr. Fox, a turkey conservation and hunting icon. Since killing his first turkey in 1944, Mr. Fox has killed a wild turkey for 75 seasons in a row, largely because of his efforts to restore the dwindling southern turkey populations in the 70's.
The vest is the result of decades and decades of turkey hunting experience between those involved in designing it. Every pocket, every strap, every button placed and engineered with the intention of creating the best, the most efficient turkey vest imaginable, come to life.
Everything has been thought of; everything has been tested. call pockets, silent magnetic closures, quick releases, leather straps, antimicrobial mouth call pockets, chalk pockets, waterproof pockets, expandable game bag...that's only the start. This is a turkey vest to last a lifetime or even two.
Fit & Comfort
Leather Shoulder Straps w/ Suede Underside
Adjustable Front Straps
Quick Release Buckles
Suspension Support Strap
Adjustable Side Straps
Air Mesh Pads
Large 3" Foam Cushion w/ Quick Release Buckle
Call Pockets
Striker Pocket w/Magnetic Closure (3)
Striker Conditioner Pocket
Leather Anti-Microbial Mouth Call Pocket w/ Lanyard & D-rings
Locator Call Pockets w/Magnetic Closure & D-rings (2)
Box Call Pocket
Box Call Chalk Pocket
Internal Box Call Pocket
2-way Zippered Folding Pot Call Pocket (2)
Gear Pockets
Front Zippered Storage Pocket
Internal Waterproof Pocket (2)
Internal Accessory Pocket
Internal Accessory Pocket w/ Shell Loops
Two Large Rear General Storage Pockets
APEX AMMO
Mossy Oak and APEX were both created with a founding obsession for turkey hunting, and there's no doubt they're cut from the same cloth as we are – as turkey hunters and as gamekeepers. From their custom shells for my grandad "Mr. Fox" to the rest of our family, they've been a part of every turkey season of ours since APEX was founded. We're proud to work with some of the most innovative and trustworthy folks in the world of ammo.
Limited Edition Hand-Loaded Turkey Shells
The numbered and non-numbered vests are built exactly the same outside of the numbered leather label, but our friends at APEX Ammo made limited edition boxes of ammo numbered 1-1,944 to go with each numbered vest. Everyone who purchases a numbered vest will have until March 31st to claim and purchase the corresponding numbered box.
Extended Edition of Unnumbered Mr. Fox Vests
We've been absolutely blown away by the support and enthusiasm for Mr. Fox and the vest bearing his name over these past few weeks. This has been the project of a lifetime for our family, everyone at Mossy Oak, and many others who've called Mr. Fox a friend and mentor over the years.
Our goal from the onset was for as many people who proudly wear the Mossy Oak logo on their sleeves to have a fair and reasonable chance to purchase a Mr. Fox Vest. We know for many, wearing a Mr. Fox Vest into the spring woods would be as if its namesake and all he stands for was a part of each and every hunt. Due to the overwhelming and amazing reaction at NWTF and our event in West Point, there simply aren't enough vests available for sale online to give a fair shot to more than a small number of folks unable to be in Nashville or West Point.
Even after making as many vests as possible available to the public by limiting vests to one per employee and a few other friends of the brand who have worked closely with Mr. Fox over the years, it is clear we need to offer more opportunities for those who desire a Mr. Fox Vest.
To do so, we are having a limited pre-sale for an extended batch of unnumbered vests. Our goal is to ensure a fair opportunity for those people around the country who want this vest as a way to pass down to the next generation their love and respect for Mr. Fox. There will be a limited window to purchase one of these vests, and we'll be doing everything possible to have the vests in your hands by next Spring's turkey season — if not sooner.
This has been one of the most incredible experiences in Mossy Oak's history, and we're grateful to everyone of you who has made it that way. We know this is more than just a turkey vest to a lot of folks, and we're trying our best to do right by those people. From the bottom of our heart, thank you.