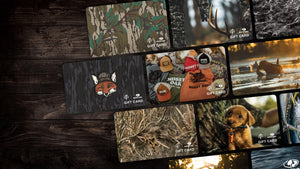 Mossy Oak
Digital Gift Cards
The perfect gift for your favorite Outdoorsman!
---
What's even better than receiving a gift? Giving one, of course! Our hunting, fishing, and Companions casual apparel make the perfect gift for your favorite Outdoorsman. Gift cards make it easy to give the perfect gift to help them celebrate the pursuits they love.
How it Works:
Pick a Design: Choose from our range of captivating designs.
Set the Value: From $25 to $500, there's a fit for every budget.
Make it Personal: Add a heartfelt message to make it extra special.
Send It: Complete your purchase and await the smiles!
We'll send your Outdoorsman a digital gift card via email OR you can have the email sent to you so that you can print and deliver your gift in person so that they can choose their perfect gift. Digital gift cards never expire. 
NOTE: This card is redeemable for merchandise only at https://store.mossyoak.com. Gift cards are not redeemable for cash and are not reloadable. Gift cards may not be used to purchase additional gift cards. Gift cards do not expire. The cardholder is responsible for the security of this card. In the event of loss, theft, or unauthorized use, The Mossy Oak Store shall bear no responsibility and will not replace or refund the card's value. Protect this card as you would protect cash. This card is subject to the Terms of Use at https://store.mossyoak.com/gift-card-terms, which may change without notice. 
The available balance on your gift card may be checked with the link to your card in the email notification. Cards added to Apple wallet automatically display the current balance. For customer service, call 1-888-667-7962 or contact us through our website: https://store.mossyoak.com/pages/contact-us.